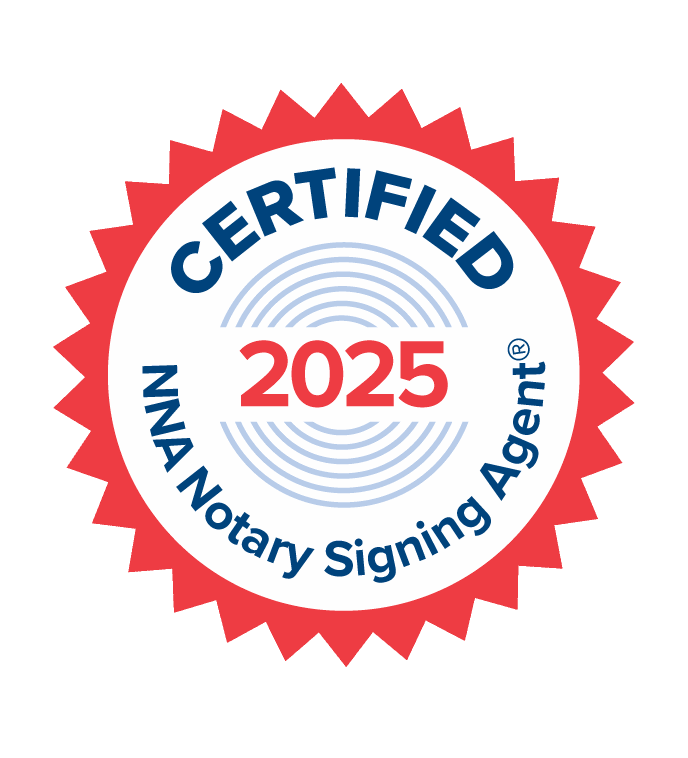 Certified Notary Signing Agent and can help you with all your important documents. My mission is to ensure that the borrower has an amazing and professional experience when working with me as their Notary Signing Agent. I will thoroughly go over each package in a timely fashion before returning the required documents. My responsibility is to make sure there are no unfilled blanks, and documents are fully completed and signed by the borrower.
When choosing me as your Notary Signing Agent, you are getting a certified trained professional that will make sure that all services will be handled to your satisfaction. Choosing me is a confident move when you are looking to get things done accurately and not time-consuming.
Types of services offered:
Affidavits
Acknowledgments
Depositions
Oaths
Divorce papers
Loan signing
General Notary Work
& more!!
Servicing the following counties in Tennessee: Maury, Mt.Pleasant, Spring Hill, Franklin, Lewisburg & surrounding areas
Contact now for a Quote!! 931-463-8129
"I AM NOT AN ATTORNEY LICENSED TO PRACTICE LAW IN THE STATE OF TENNESSEE,
AND I MAY NOT GIVE LEGAL ADVICE OR ACCEPT FEES FOR LEGAL ADVICE."
I am able to notarize documents at an affordable price. When working with me you will engage with someone who prides themselves as very professional, while also being in a relaxing atmosphere. We will work patiently together to ensure that all documents are understood and signed properly, so there is no need to feel rushed. Booking info is below but please feel free to email me at vanecia@simplyveii.com, I respond within 15-30 mins, no worry to wait, I'm here to make things go accurate, fast, and professional, so you can be worry-free.
Contact for information on Notary Services and to get a quote!
---
In need of a website, go to the menu bar and select "Website Development/Design to get more info!!
---
**Make sure to go to the menu bar and click "Spiritual Blog" to get info on yoga, chakra healing, self-care, crystals & so much more!! I want you to live a life of happiness & peace, so allow me to show you the way**.
Processing…
Success! You're on the list.
Whoops! There was an error and we couldn't process your subscription. Please reload the page and try again.
---
---
---
For more info: vanecia@simplyveii.com
---
---